The big announcement: I'm moving to Los Angeles!
I'm thrilled to announce that I will be attending 🟠 ArtCenter College of Design this fall as a Graduate student in the MGx program (MFA in Graphic Design)! The school is located in Pasadena, California, just outside of Los Angeles. I couldn't be more excited to start this new chapter in a few months.
After exploring my passion for design over the past 4 years, I found myself reaching a limit to my skills as a self-taught designer. Well considered feedback is the element of my design education that has been missing, and a graduate program became the obvious choice for me to pursue.
Leaving Splunk
It's hard to believe that I left my job at Splunk one year ago last month, it wasn't a decision I took lightly. I had known for some time that I wanted to leave the tech industry, and had no intention to leave Splunk until I knew my next step. From where I started in the process one year ago, an acceptance at ArtCenter seemed like an impossible goal… one year really can change your whole life. With the advent of creative coding and generative art, I look forward to exploring how my experiences in these two worlds will combine during graduate school. All that said, I learned some phenomenal skills and life lessons that I will never forget. Read about them here.
​
On my last day of work, I had the best (pandemic-friendly) send off I could have imagined, thanks to my former manager, Tim Pavlik. That day Tim and his wife stopped by my home with lunch, some treats and a surprise to open later that day. Per tradition, Nils Brazs came through with a goofy Photoshop meme during my farewell Zoom call with folks from the Seattle office while we were all still working remotely. Since I'd told Tim I wanted to spend the rest of 2021 preparing for my design portfolio for MFA applications, the news spread through Slack… and here we have me Photoshopped as Bob Ross! (RIP) 😂
The Road Trip
After being accepted to both MFA programs that I applied to (the Design MFA at California College of the arts, and the Graphic Design MFA at ArtCenter), I had a very challenging decision to make. Since I hadn't traveled at all since the pandemic began, I decided to take an adventure and drive down from Seattle to visit both schools. I also met up with a bunch of friends, and finally took a break after two years. The cathartic release was long overdue.
Before the trip I was already 90% leaning towards ArtCenter, but I went in open minded to ensure I made the right choice for me. Ultimately I chose ArtCenter with the intent of learning more about typography, branding, and design leadership.
These two ideas stuck with me from the trip:
LA is a melting pot. On at least three occasions while in LA, I introduced two of my friends who didn't know each other and they instantly found shared interests to bond over. It sounds simple, but it's something I don't think I've experienced before and really excites me. A prime example of 1+1=3.
Vastness. After being more or less stuck in my apartment for so long, I had forgotten how expansive the Earth really is. This feeling of vastness is something I don't think is possible to reproduce digitally. The drive down Pacific Coast Highway from San Jose to Los Angeles was incredible. The views from Big Sur were unforgettable and made the whole trip worth it for that experience.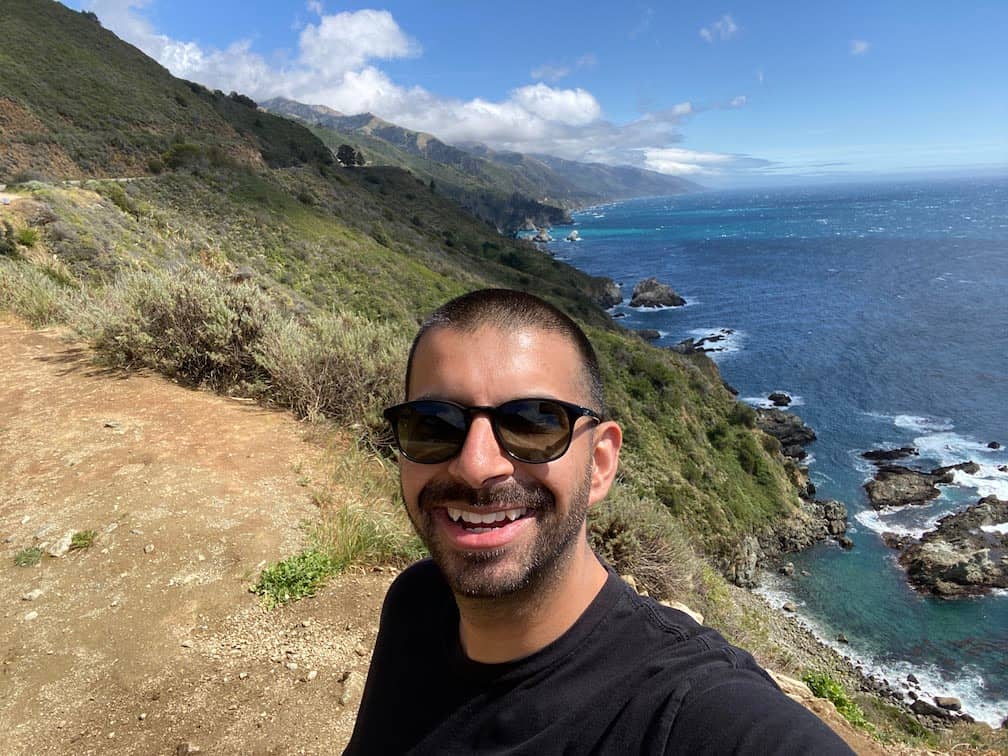 ---
How You Can Help
My design business is called ntrsct (in•ter•sect) designs, and I'm always looking to meet potential clients or collaborators.
I help businesses make the right first impression with their customers, by providing brand strategy and logo design services.
If you know any of those types of businesses, please let me know. I would love to meet them! Feel free to forward this email with a note, or share my business website or services deck with them.